First InterOpConf conference - Microsoft meets Open Source!
The InterOpConf conference took place in the Polish headquarters of Microsoft in 30.11 – 01.12.2013.
This was the first edition of the conference, which showed that the intriguing subject of Microsoft and Open Source met with great interest.  We had the pleasure of hosting 65 members of the open source community from Poland and abroad. 
Microsoft chose openness
The aim of the conference was to provide solutions that are the result of cooperation between open source communities and Microsoft Technologies, which promote interoperability and show the "Microsoft Openness" ideology.  But above all, it was a technical conference that was to show how different, and even competing technologies can work together and not exclude each other.
Speakers & topics
The first day of the conference was devoted to demonstrating open Microsoft projects, presenting the idea of Openness and how our technologies can cooperate with other open technologies and environments, such as Linux, for example.
On the second day participants deepened their practical knowledge during 4 different workshops:
   1. Games using Microsoft Cloud Scenario: "Mobile gaming on Azure"
   2. Mobile services on Azure 
   3. Linux and open source cloud scenarios on Azure
   4. Integration platform on Windows Azure  
The speeches aroused much emotion amongst the participants. They enjoyed the idea of "Linux Sky" – a Microsoft Open Source Technology Center where you may find only open source projects. 
The participants also expressed their interest in the speeches of our guests of honor - Jose Miguel Parrella and Alexandr Belotserkovskiy.
Jose Miguel Parrella – works with Microsoft, Redmond USA and is responsible for Open Source strategy. A Linux Passionato for many years.   
Jose had two speeches: "Linux and open source scenarios on Azure" and  "Understanding the value of the .NET ecosystem for open source developers".
Jose is active on Twitter and publishes both on his own blog as well as the Microsoft Openness blog.
Alexandr Belotserkovskiy – is an evangelist of the Windows Azure system in N3 Results, LLC. He actively cooperates with Pro and Dev IT communities.
 Alexandr presented: "Integration Platform on Windows Azure" and "ASP.NET loves HTML5 and Javascript: what's New in Visual Studio for Web developers?".
Alexandr also blogs.
The first day ended with an integration meeting which was a good opportunity to get to know each other better and to continue discussions about Linux, cloud solutions and Microsoft openness.   
Photos and film
On the Facebook event page of our conference we shared the first photos from our meeting. Soon we will be adding some more pictures.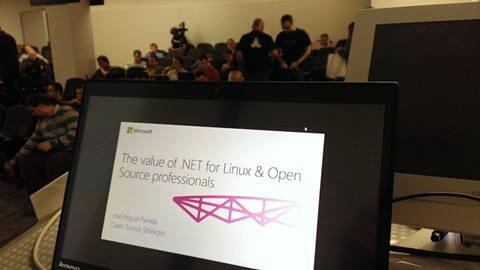 We have also prepared a short video:
What happened in social media?
TWITTER
We also shared up-to-date information about the conference on our twitter account.
You may find a summary of our live twitter coverage here.
Below are some of the entries:
Konsola #linuks na konferencji Microsoft #InterOp pic.twitter.com/R4xoPtoPEE

[Linux console at Microsoft conference] 

— Openness At CEE (@OpennessAtCEE) November 30, 2013
#ubuntu desktop on #WindowsAzure via RDP. #azure_cee and #InterOp effect ;-) @OpennessAtCEE @azure_cee pic.twitter.com/vm6Ed1OMTi
FACEBOOK
Thank you for the positive comments on our Facebook site – they mean a lot to us!
Tomasz Wszeborowski: "świetna atmosfera i organizacja !  pozdrowionka i do zobaczenia wieczorkiem"
[Great atmosphere and organization! Greetings and see you tonight!]
Conference materials
Presentation by Alexandr Belotserkovskiy:
ASP.NET loves HTML5 and Javascript: what's New in Visual Studio for Web developers?.
Presentation by Michał Smereczyński:
Presentation during workshop by Alexandr and Michał:
Windows Azure Virtual Machine Deep Dive Session
You may see more code concerning the last presentation on Michał's GitHub.  Michał has also shared a link to cloud performance tests which you may find here.
We would like to thank all participants for coming and for taking part in the discussion. Next year we  hope to also host those you didn't make it this time. We look forward to continuing the discussion on our blog, fan page and twitter account.